Steely Dan (Donald Fagen and Walter Becker) composed and recorded Your Gold Teeth II almost thirty-six years ago on their Katy Lied Album (MCA Records) and the track sounds as if it were recorded today, fresh, tight, and with a be-bop groove that is unforgettable and will always be burned into my musical psyche as one of their very best jazz compositions and studio performances.
Deconstructing this song is fun because it fuses together so many classic jazz elements in a song that has weird lyrics to say the least. The arrangement is deceivingly simple and elegant with the piano, bass and drum parts that blend seamlessly throughout the track. The guitar solo and the underlying drum part are the highlights and placed front and center from the middle to the end fade-out for the song. The showpiece of this song hands down is Denny Dias' masterful guitar solo that pays tribute to Django Reinhardt. The guitar notes ring out and are clearly picked with a precision and jazz feel that any professional guitarist would appreciate. Denny plays this solo with passion and goes up and down the major and minor scales without bending a single note. One has to admire the dexterity, timing and precision of his playing as the solo is just nailed as soon as you hear the first few notes.
On this particular track, drummer Jeff Porcaro had a lot of trouble laying down the drum part. Instead bringing in another drummer, Donald loaned Jeff a Charles Mingus album with Dannie Richmond drumming to help him achieve the be-bop drumming groove he was looking for. (Dannie Richmond drummed for Charlie Mingus and was one of the best Be-Bop/Post Bop drummers in recent American Jazz history.)

As you can see from Jeff Porcaro Instructional Video, his dexterity and coordination is showcased as he casually performs what appears to be one of the most intricate drumming techniques. Jeff was truly a master of the drums and it's easy to see why he was in so much demand as a studio session drummer. He played on hit albums by the following artists: Bruce Springsteen, Dire Straits, Paul McCartney, Rickie Lee Jones, America, Miles Davis, Lee Ritenour, Michael McDonald, Tom Scott, BeeGees, Jackson Browne, Peter Frampton, to name a few.

Jeff was quoted in an interview by Modern Drummer Magazine: "'Your Gold Teeth II' is a song with lots of bars of 3/8. 6/8. amd 9/8. And it's bebop! I could swing the cymbal beat and fake it, but that always bothered me. After recording it, Fagen gave me a Charles Mingus record with Dannie Richmond on drums. It had a tune that was full of 6/8 and 9/8 bars. I listened to that for a couple of days, and we tried it again and it worked. What a cool thing! The ride cymbal on that, and on the whole record, is an old K Zildjian my dad gave me. Unfortunately, all the cymbals are clipped and phased on the album because the DBX didn't work. That was real heart-breaking for those guys"


Denny Dias Interview from the Making of Aja Classic Albums DVD
The next day in the studio, Jeff nailed the drum part in one take. His drumming was the perfect foil for Denny's spectacular guitar solo. If you are just getting into jazz for the first time, this song is a must hear if you want to hear what be-bop is all about. Although I described Denny's guitar solo as spectacular, most if not all of his guitar solos are some of the most understated guitar solos in the business. Never showy or flashy, they get the job done as he has carved out a unique lead guitar style and tone that is instantly recognizable. Another example of this is Denny's lead guitar parts in Aja. Usually a record is produced and the finished product is good enough. For Donald and Walter, this was never the case. The finished product had to be as close to sonic perfection as humanly possible. The caliber of professional musicians they have used over the years reads like a who's who of the Jazz Musician's Hall of Fame. Their recording engineer Roger Nichols used state of the art recording gear and monitoring equipment. Forget Dolby, they were experimenting with DBX compression way before it became mainstream and were into exotic stereo equipment and speakers for the sole purpose of hearing the most accurate reproductions of their work. Walter was a big fan a Dahlquist Electrostatic Speakers. They also spend a lot of money (much to the the ABC Record Executives and Accountant's dismay) acquiring high end esoteric stereo gear so that they could monitor the tracks in the studio. Roger Nichols who was their chief engineer on all of the SD albums, was also a stereo fanatic and ran a company on the side building studios and sound rooms for commercial accounts and private individuals. They were so into the cutting edge of electronic stereo gear and even ahead of the curve by choosing to use DBX compression equipment to record Katy Lied, that they got themselves into serious trouble when recording the master tapes with the DBX gear. It almost destroyed the Katy Lied recordings due to some electronic gremlins that to this day were never resolved by the DBX Factory headquartered in New England.
As they became more proficient in mixing traditional jazz with rock and deliberately cryptic lyrics, the challenge of finding even more talented jazz musicians for their new material and albums became harder but they were always looking for talented jazz musicians in the most unconventional ways. They "found" Pete Christlieb by watching and listening to the Doc Severinson Band on Johnny Carson's Tonight Show on network television. Walter and Donald called the Tonight show producers and auditioned the first two saxophone players from the Tonight Show band before Pete showed up as they could not ascertain who this fantastic Sax player was when watching the three of them play on the Tonight show. Pete ended up being the third and final sax player to audition and as soon as he started playing, Donald and Walter hired him on the spot.
Check out this track. It is one of many tracks that Steely Dan has produced that provides so much technique and finesse and is one of the more contemporary jazz pieces with a be-bop backbone that has won over many jazz traditionalists and rock fans over the years. I believe it is a quintessential Steely Dan song that pushed them into Jazz territory and showcased their arranging and compositional talents outside of the Pop song structure and progressive rock genre.
Your Gold Teeth II Studio Recording Youtube Video
Steely Dan over the years has hired some of the most talented guitarists of this generation to play extraordinary electric guitar solos that sound fresh and still stand as classics that are instantly recognizable to any one who has tuned into FM radio in the the last forty years. Here's a Youtube video of Hank Easton playing a medley of the most famous Steely Dan guitar solos. Hank is a San Diego based jazz guitarist who plays lead guitar in a Steely Dan tribute band, Steely Damned and the Hank Easton Band:
Steely Dan Guitar Solo Medley Hank Easton Band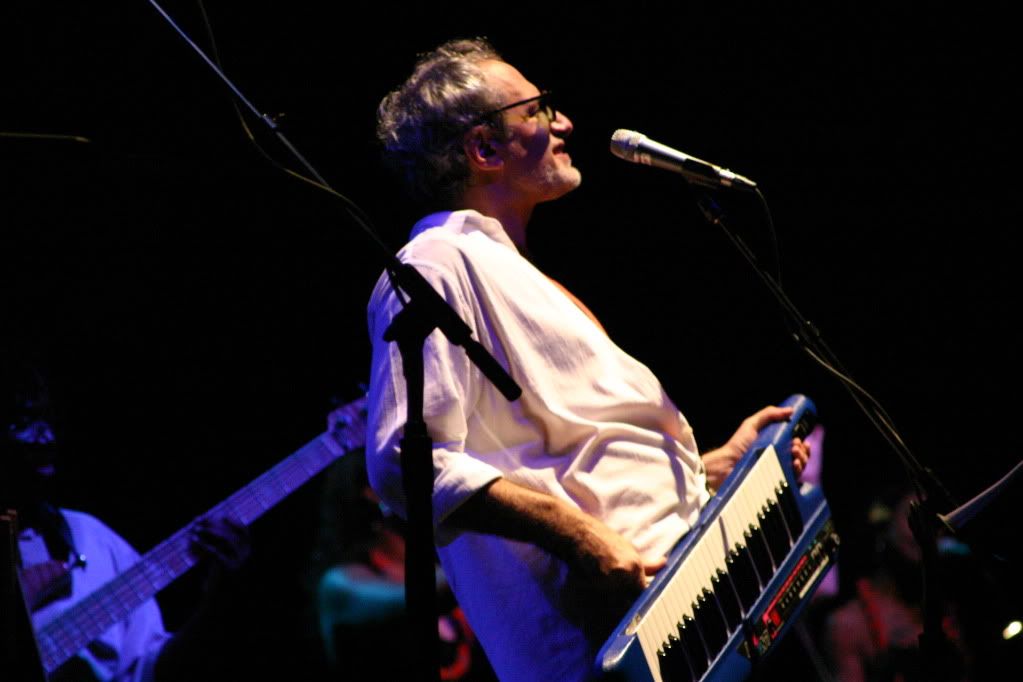 Donald Fagen