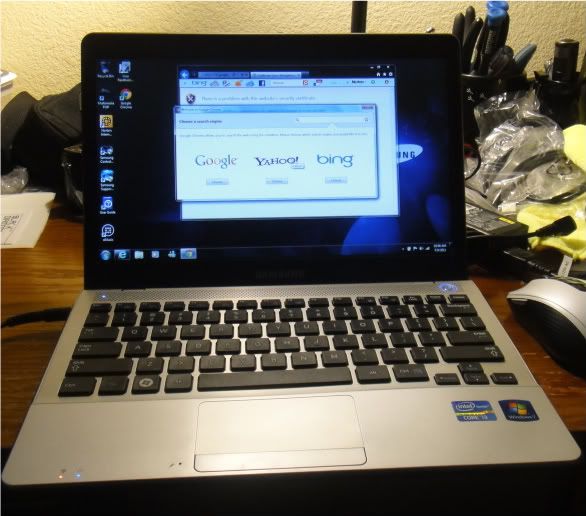 Watch your back Sony! Samsung is entering the sub-notebook market big time!
12/18/2012 UPDATE
The Staples Ad for the week of 12/18-12/24/2011 just went live on their web site and sure enough, the Samsung Series 3 11.6" Princeton Notebook with the Intel Core i3 Processor, 4 GB of memory and the 320GB Hard Drive is on sale for $349.99 WHILE SUPPLIES LAST!!!!!!
HERE'S THE LINK:
http://weeklyad.staples.com/staples/default.aspx?action=entryflash&adref=staples_right_hand_nav%20&icid=HP:HP:WEKLY_AD:WEKLY_:NULL::
BLOG UPDATE 12/14/2011 PRICE DROP ALERT!!!!!!
Pssst...Want to buy one of these notebooks brand new from Staples for $349.00 ($249.00) with trade in notebook? Follw the instructions here:
Looks like Staples is blowing out the Samsung Series 3 11.6" Princeton Core i3 Notebook again and the alert is for next week (Dec 19-23rd, 2011).. If you trade-in a qualifying used notebook you can get the price down to an incredible $249.00 by way of a $100.00 Visa Gift Card. The normal price at Staples is $599.00.
Thanks to TTRAN88 for posting this tip:
Here is the link to the tip:
http://slickdeals.net/forums/showthread.php?t=3712108
BLOG UPDATE 11/02/2011
To see a side by side comparison chart stacking the Samsung Princeton 11.6" NP300U1A notebook agains the latest Apple MacBook Air 11.6" SSD model click here:
Samsung Series 3 Princeton 11.6 NP300U1A VS Apple MacBook Air 11.6"
Why Samsung is Rocking the PC and Tablet US Markets!
I just received a Samsung Series 3 Princeton 11.6" Notebook Model NP300U1A Core i3 in for review and so far we have a winner. Priced at $599.99 on sale at Staples, Samsung is aggressively pursuing the college and university market touting it as ' 2.75 pound 11.6" LED notebook measuring a little more than an inch thick with 6-8 hour battery life and a genuine Intel Core i3 processor with a 320 GB 5400 rpm hard drive. This notebook also has built in Bluetooth and 3 USB ports and an HDMI output jack. Will be posting a detailed hands on review with photos shortly but initial un-boxing impressions are very positive. This notebook will. also be snapped up by businesses as the build quality is excellent and it is powerful enough to run most windows business applications. it is very light and the LED screen is very bright and sharp. It also has wide viewing angles and the hinges are very smooth and strong. The keyboard is very easy to touch type on and has the chiclet style keys first found on Apple notebooks.
I did in fact weigh this notebook on a digital scale and it actually weights 2 Pounds 11 1/2 Ounces with the battery installed. We're in MacBook Air territory on weight and about the same dimensions and weight as the old Sony VGN-TZ Series of notebooks that are currently discontinued. Samsung is really playing hardball when it comes to price-performance and will give Sony buyers pause before they sign on the dotted line for their next Sony ultra small notebook.
I just posted exterior and internal photos of this notebook as I was in the middle of upgrading the hard drive. Although the motherboard is capable of supporting 8 GB of RAM in 2 physical DDR3 SIMM Memory Slots as confirmed by the Crucial memory Scanner tool, There is only one physical slot on the motherboard and there is an ADATA DDR3 4GB memory SIMM installed. An OEM 5400RPM 320 GB Hitachi 2.5" 9MM hard disk is standard on this machine. I swapped this drive for a 500GB Toshiba 2.5" Notebook Hard Drive.
You can see from the photos that this notebook has nice design elements and the compnent packaging and accessibility is very good for such a small notebook. The left side of the notebook has two USB 2.0 Ports and there is a third USB Port on the right side of the notebook. It also has an SD-HC-XC memory Card Slot and and HDMI Output connector.
The 64 Bit Version of Windows 7 Home Premium comes pre-installed on this notebook. This is a wise choice by Samsung to make this notebook perform well right out of the box.
August 9, 2011 Update
.
Since posting this first look hands on review, I received some emails inquiring about system performance and how this notebook compares to an HP DM1Z or Lenovo X120e with the AMD Fusion E-350 microprocessor.
I ran the Windows Experience Assessment Tool and found that the Samsung Series 3 Princeton Intel Core i3 posted impressive system performance numbers. On the Intel scale of 1.0 to 7.9. These assessment results speak for themselves. This notebook is no slouch and it does not generate a lot of heat when running productivity applications like Word and Excel. It also handles multiple programs running at the same time with no perceivable lag time or CPU slowdown. I also found the LED screen to be of very high quality and stacks up very favorably to any of the LED screens you will find in Apple or Sony notebooks. For not much more than you would pay for the latest Netbook, Tablet or entry level notebook with an AMD Fusion or Athlon processor, you can buy this little hot-rod that has the goods to power through your school or business day with some very nice A-List components courtesy of the Samsung Notebook design engineering team.
Damn the bean counters and give the notebook buying public what they want. Bleeding edge fully equipped notebooks at bargain basement prices. I hope this trend spreads to other notebook computer manufacturers as we will all benefit.
Thank you Samsung for delivering the goods and shaking up the price performance curve in favor of the consumer!!!!!!
Base Score is 4.6
Processor is 4.9
Memory (RAM) is 5.9
Graphics is 4.6
Gaming graphics is 6.0
Primary Hard Disk is 5.7
August 11, 2011 Update
To test out the built-in Bluetooth radio, I set up a Microsoft Bluetooth 5000 wireless mouse and paired it with the Samsung Series 3 Princeton in seconds. This feature allows me to have access to all three USB ports so I can have a usb scanner, am external hard drive and a free usb port for maximum flexibility on the go. I could even plug in an external DVD/ROM drive and still have my scanner and external hard drive attached. There is also a standard RGB port so I can plug into an external projector when making presentations on the road or if I want to make use of a large screen lcd or led display that has a standard RGB port in an office setting..
The wireless performance for this Samsung is above average for a notebook. It received a strong WiFi signal both indoors and outdoors and being on the second floor at the far end of the house did no affect WiFi performance significantly. Streaming Youtube videos and MP3s was a piece of cake. It was tested using a Cisco Linksys 1200 Wireless N Router.
This notebook awakes from the sleep state instantly and goes into the sleep state in a few seconds. Backing up to a hard drive is easy and I was also able to test a few USB drives and SD HC SD memory cards. File copy performance was impressive and I noticed no performance slow down even with multiple windows and applications open when backing up or copying a large number of files form external hard drives, USB drives and SD memory cards.
I can visualize this notebook as being perfect for the Pro Photographer or Field Journalist/Blogger who wants decent Intel Core i3 performance, a battery sipping system, and a form factor that is smaller than an average Apple Mac Book Air. With the built-in Bluetooth, 3 qty Built in USB ports, and the built in SDHC-XC memory card reader, you will be able to tackle any computing job. I don't foresee a problem getting this notebook repaired or obtaining spare batteries or parts as Samsung has an international Service program and organization for servicing all consumer and business notebooks in and out of the standard 1 year warranty period.
August 13, 2011 Update
For those who have emailed me with questions on how to safely remove the cover of the Samsung Series 3 Princeton 11.6" Notebook, I have posted below detailed instructions on how to do this procedure without damaging your notebook. This is also a call out to BASSAM to thank him for his informative comments on the real world battery life he is getting with this notebook and also alerting us to the fact that Samsung does not have this notebook spooled up yet in their accessories and parts database. Also wanted to let BASSAM know that he is free to pick any standard 2.5" 9.5MM height SSD drive and install it as an upgrade replacing the factory 320 GB hard disk very easily by following the hard drive upgrade instructions I posted below.
Please keep those comments and emails coming. I will do my best to provide useful technically accurate information to enhance your user experience with this notebook. I want this to be the best one-stop go to information source for this nifty little notebook. Hopefully Samsung will catch-up and introduce accessories tailored for this notebook in the near future.
October 14, 2011 Update
For those who are interested in getting educated on the other Samsung Notebook product lines here is a link to a Samsung notebook market analysis I just posted called: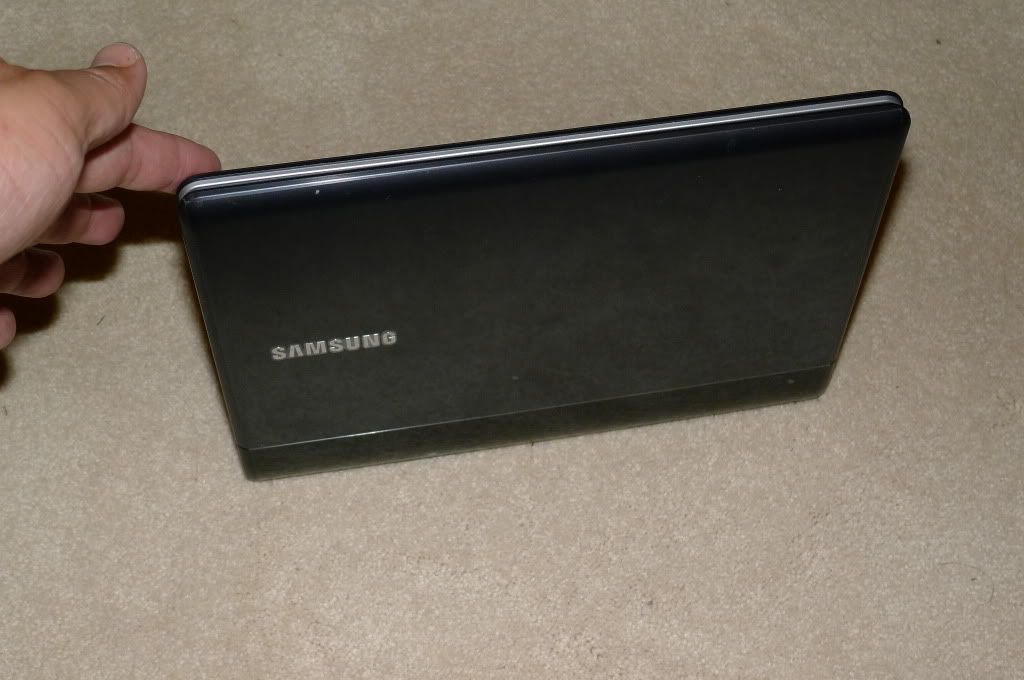 Holy Smokes! If it were any smaller, you'd have to call it a Tablet.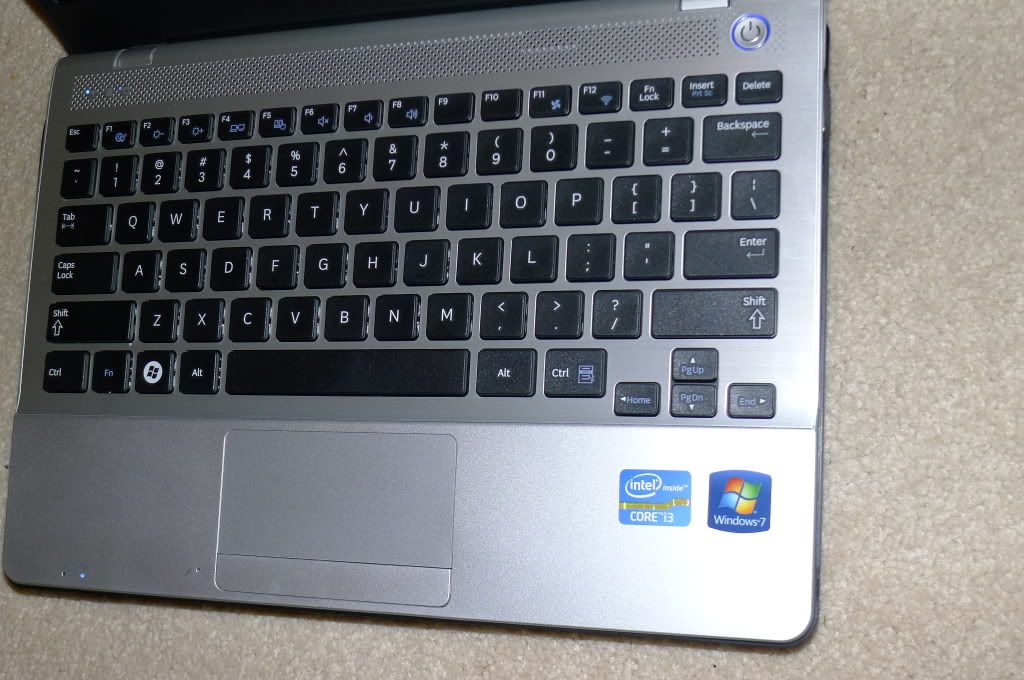 Yes Virginia, you can touch type on this comfortable keyboard .
A masterpiece of miniaturization, Samsung is one of the top notebook component manufacturers.


INSTRUCTIONS ON HOW TO UPGRADE THE
HARD DRIVE IN THE SAMSUNG SERIES 3 PRINCETON 11.6"
NOTEBOOK & HOW TO REMOVE THE
BACK COVER WITHOUT DAMAGING THE NOTEBOOK
If you want to remove the back cover, it is a relatively easy process. DO NOT attempt to do this unless you are comfortable with memory upgrades and have replaced a notebook hard drive in the past. I recommend a grounding strap and removing the battery before starting. Also you will void your warranty if you replace the hard drive unless you save the old one and re-install it if you send it back to Samsung for warranty service.
Step One- Remove all 6 screws that are used to secure the back cover.You need to pry the 2 rubber feet at the lower left and right hand corners of the notebook to access 2 of the screws. One is located just north of the SD card slot and the other is next to the Microsoft Windows 7 Product Key Label.
Step Two -Once you have removed all 6 screws, then gently and I mean GENTLY pry the case from the upper shell holding the motherboard and chassis components. It should come loose without any interference. The Hard Drive is in a rubber shock sleeve and the SATA cable easily comes off. You can replace the hard disk with any size 9.5MM height notebook hard drive and that includes SSD drives too. You can purchase one from IBM Hitachi, Western Digital, Seagate, Samsung, OCZ, PNY, etc. They all must be 2.5" form factors, have the standard SATA connector and cannot exceed 9.5 MM in height, otherwise they will not fit and will not work.
To put everything back together again, just follow the dis-assembly procedure instruction in reverse.
The outer bottom plastic shell is light in weight but very sturdy and flex resistant.
There is only one DDR3 SIMM slot so memory is limited to 4 GB of RAM.
You may consider buying an 8 GB Memory SIMM if you are running Photoshop
They are now available from Newegg and Crucial Technology
www.newegg.com, www.crucialtechnology.com
The right side has 2 USB ports and a standard VGA port.
Sorry, USB 3.0 didn't make it into this design
The left side has the AC adapter port, Ethernet port, 3rd USB Port HDMI output jack and mini-headphones port.
The cooling vent is pretty efficient and the notebook runs relatively cool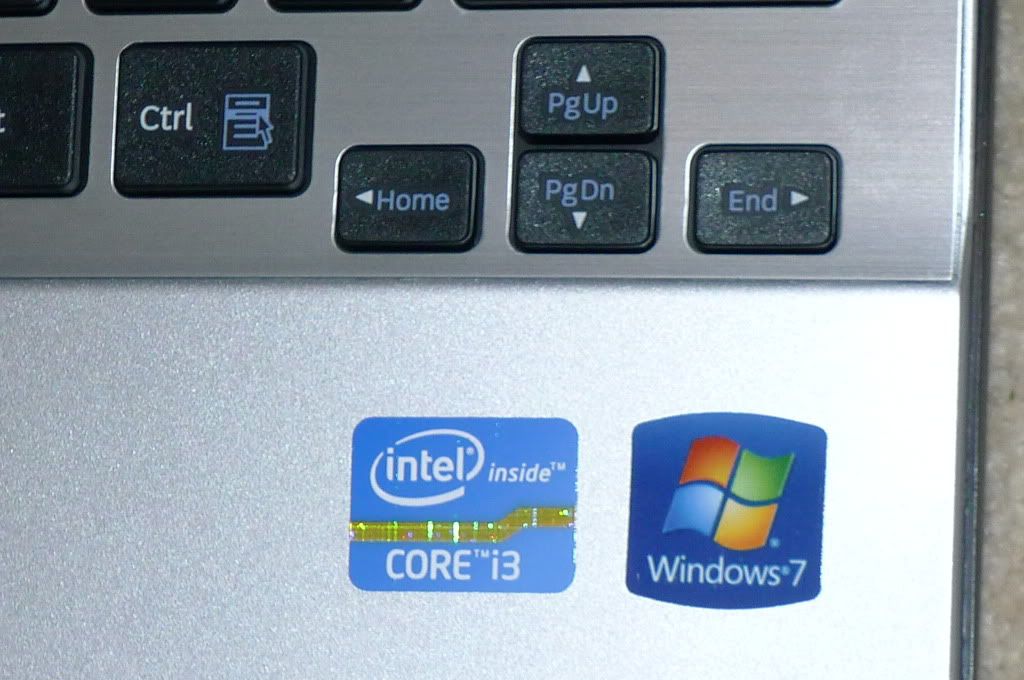 It has a genuine Intel Core i3 Microprocessor and the 64 Bit Version of Windows 7 Home Premium
The Chiclet Style Keyboard is easy to type on and the keyboard layout is pretty standard
Core i3 mean more computing power, less power usage (theoretically)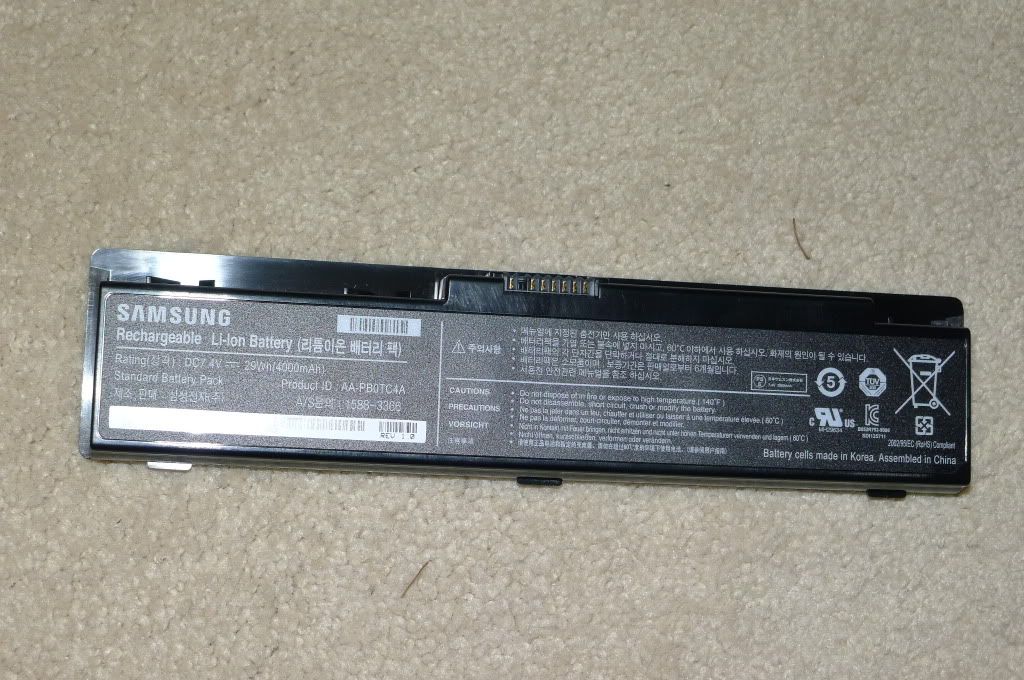 3 Cell Lithium Ion rechargeable battery offers up 6 continuous hours of run-time.
Most users are getting 2.5 to 3 hours. Room for improvement here as an extended life battery would be highly desirable but not offered by Samsung yet as an optional accessory.