Just got a Toshiba Thrive Tablet in for review. It is an actual production unit and since we have an Ipad2, I will be able to provide a reasonable comparison to the Ipad2 which is now considered the gold standard for tablet computers. The tablet market has really caught on fire this past year as most if not all of the major computer makers have jumped with new tablets all trying to steal some thunder from Apple. Gathering the most attention so far is the Motorola Xoom, RIM Playbook, HP Touchpad, Asus Eee pad Transformer, Samsung Galaxy tab, et al. Being late to the Tablet game has many advantages as evidenced by the introduction of Toshiba's Tablet models.
You can see how vibrant and sharp the Toshiba Thrive Screen is in these digital photos. You'll have no problems using this tablet indoors and outdoors. The resolution is high enough to satisfy the most demanding notebook users.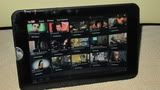 Late but not last to the game is Toshiba which quietly introduced the Toshiba Thrive in the the middle of the summer 2011. I think Toshiba was wise to wait until every major player introduced their tablet so they could see which features were most readily accepted and requested by consumers so that their tablet would grab a decent market share and sell well right out of the gate. Toshiba was wise to adopt this strategy as they did listen to consumers and read and cribbed notes from the major trade mag reviews of all of the Ipad competing tablets.
Herewith is a mini out of the box review and initial impressions of th Toshiba Thrive. I will be adding more detailed notes and observations after I've had more time to use it for work and play.
The Toshiba Thrive Tablet sells for $479.99 for the 16GB Model with WiFi and Bluetooth capability built in. It is almost the same length and width of the Ipad 2 but definitely thicker (because it has a user replaceable battery that offers a little less overall battery life than the Ipad2. It offers 7-8 hours per charge. It also comes with an SD-HC Memory Card Slot for unlimited storage. i will be testing that feature out soon and that is a biggie as you don't need to buy the more expensive 32 GB and 64 GB Models.There is no built in memory card slot for the Ipad2. This alone will steer a lot of folks to the Thrive assuming the Memory Card Slot works as advertised.
It is heavier by about 4 ounces than the Ipad2 but almost twice as thick. It weighs about 24 ounces with the battery installed. It is very well constructed and has a nice sold feel and heft to it. There are convenient textured ribs on the back to allow a user to hold the Thrive securely and the power, and volume controls are on the upper left hand quadrant of the tablet. The screen is bright and sharp with accurate vibrant colors and a wide off screen viewing angle.You can view in portrait and landscape modes as it adjusts automatically with a built in accelerometer. The programs open up quickly and overall launching files and programs feels as snappy as the Ipad2. Flash and MP4 videos played smoothly with no artifacts or choppiness even with action videos. The built in speakers were loud and had a good treble and bass response given their small size. The touch pad glass seemed to be very solid and durable too.
I think Toshiba has a hit on its hands as they have married the right hardware components to the latest Android Honeycomb version operating system. The graphics feels fast and snappy and the menus and gestures are all easy to use and quite intuitive. Text was sharp across the board. Photos looked realistic and had accurate colors. Videos were excellent with great color and clarity. The browser was quite fast (thank Google) and viewing documents was easy as the scrolling features were easy to use and quite responsive to the touch and gestures.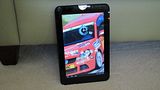 Built in accelerometers adjust for portrait and landscape modes on the fly. Changing modes is instantaneous with little to no lag time or latency issues.
The Toshiba Thrive includes a 19 Volt 1.42 Amp AC Adapter Charger, A Quick Start Guide, Catalog of Thrive Accessories, and Warranty Documentation.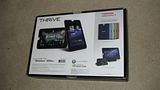 The picture of the Thrive below is with the back cover removed. You can see the Lithium Ion Battery on the left which is held in by one Phillips Head Screw. The CPU, & motherboard is to the right and the Back-up Lithium Cell Battery Holder is easily accessed as seen in the lower right hand corner. If you did what I did to photograph the innards of the Thrive on your IPad 2, you would most likely void your AppleCare Warranty.
Here's a screen shot of YouTube where the interface is sharp and crisp and all of the videos, regardless of the windows size are sharp detailed and bright up to the corners and edges with no discernable geometric distortion or artifacts.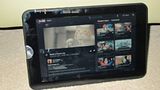 Street/MSRP Pricing for the Toshiba Thrive Tablet:
$429.99 for the 8 GB Model
$459.99 for the 16 GB Model (MODEL TESTED IN THIS REVIEW)
$499.99 for the 32 GB Model
Authorized Resellers Stocking it now:
Best Buy
Office Depot
Staples
TOSHIBA THRIVE ADVANTAGES/BENEFITS
OVER THE APPLE IPAD 2
AS OF 7/12/11
2) User Removeable Rechargeable Lithium Ion Battery
3) Built-In SDHC Memory Card Reader/Writer - Tested with up to
32 GB SDHC Memory Cards - Cheap Storage Expansion (You can
purchase 32 GB SDHC Memory Cards for as little as $49.00)
4) Built-In Standard USB, Micro USB and HDMI Output Ports,
5) Android Honeycomb 2.1 Operating System supports Adobe Flash
6) Tight integration with Google Applications
7) Grippy Back Cover-Textured for easier holding
8) Accelerometer allows portrait and landscape modes in any direction to accommodate accessory wires for easy positioning on a stand or table.
9) Can run virtually any Android software application
10) Nvidia Graphic and CPU chip is dual core design and very fast and
very power efficient.
11) Games platform is stellar and wide open to all Android software developers.
12) Electronic Arts Need For Speed Shift (Demo Version) which is bundled is simply astounding as it shows off the incredible video graphics, stereo speakers and high frame rates to their fullest advantage.
REPORT CARD
Toshiba Thrive 16GB Model
Price as tested: $459.99
Hardware Performance Overall: B+
Graphics Performance: A-
Svelte Form Factor/Overall Packaging: B+
Battery Life: B+
Bundled Software Applications B-
Price Performance A-
Usefulness as a Business Tablet B +
Usefulness as a Home Tablet A -
Ergonomics B +
Ease of Use hardware B
Ease of Use software A -
Overall Report Card Average - A Solid B +
Thrive Review Addenda 7/30/11
After using and living with the Toshiba Thrive it has become apparent that this 
is one of the first tablets that can provide similar functionality of a Netbook 
or even low end Intel or AMD dual core notebook. Having the expandable sd-hc xc. 
Built in card slot and the mini and standard USB ports allows you to easily 
connect a USB keyboard and or mouse. You also have Bluetooth built in so you can 
add a bluetooth mouse and keyboard. These features make the Thrive perfect for 
heavy duty text and data entry. The on screen keyboard works well but for long 
memo, emails or lust long text documents you will be far more productive with a 
real keyboard and mouse. You can choose from a full size, a compact or even a 
mini travels size if you want to keep the travel weight down.  Backing up to 
industry standard sd storage cards and USB thumb drives greatly increases the 
usability as compared to other Apple ipads and competing tablets.

So the Toshiba Thrive is a dual purposed machine as it is a casual Tablet that 
is easy to use around the house but you can also get some serious work done 
with the wide array of text input options at your disposal. Being able to store 
up to 64 GB on an SD card is also a huge advantage and necessity if you have a 
lot of data that you need to have ready access to.

I think calling it a business tablet would not be a stretch as it does have all 
of the necessary notebook features that business men and women are accustomed to.