Sony has come back with a vengeance. After four or five somnambulent years producing mediocre digital cameras, they have come out of the gate (pardon my analogy) Godzilla. First they announced and shipped (on time) the Sony NEX 3 and 5 APS C Sensor removable lens cameras to glowing reviews form the digital photography community and almost immediately followed up on that earth and category shaking announcement with the world's first Single Lens Translucent Mirror DSLR camera, the SLT 33 and 55. They are readying a new line of full frame DSLRs that will give Canon and Nikon a run for the money in terms of feature set, performance and price.
I have never seen so much digital camera innovation pour out of one company so quickly. They have put Canon and Nikon on notice that they intend to pull out ALL of the stops technology wise with digital camera technology from here on out. The EXMOR sensor, The Carl Zeiss lens operation and the SLT technology are all home run franchises that will propel the product mix and will filter down into their lower priced cameras sooner rather than later. The Minolta acquisition has clearly paid off big time for Sony and they are fearless when it comes to changing the game of digital camera offerings for the advanced amateur or those looking to trade up from an advanced point and shoot camera. The end result of Sony's aggressive moves in this space is more road-kill and still born products from the second tier digital camera companies like Olympus, Fuji, Casio and Ricoh. Price performance at Sony is way up and their digital camera products are really hard to beat with the still and video imaging advances built into their new cameras. It is obvious that they are gunning for the number one digital camera manufacturing position and by introducing the NEX and SLT product lines, they have laid the gauntlet down. It will be very interesting to see how Canon and Nikon respond product-wise and you can bet your pay check that Canon and Nikon are NOT going to let those product introductions go un-answered.
The digital camera buying public is clearly the big winner coming out of this battle of the Digital Camera Titans. STAY TUNED!!!!!!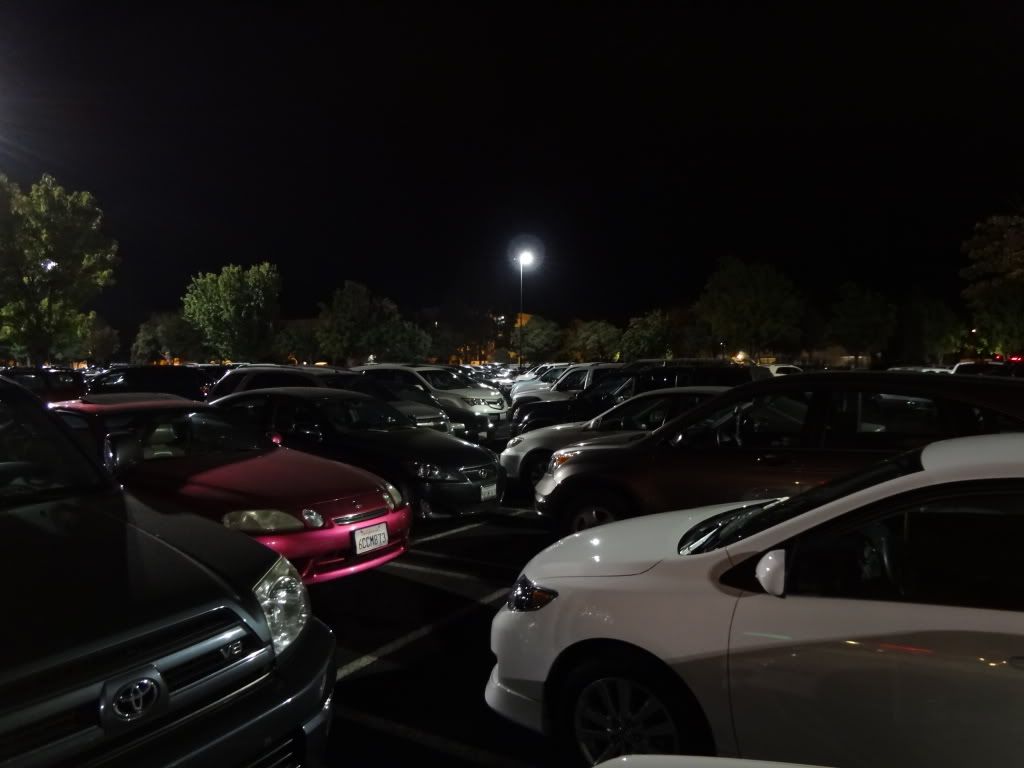 Here are 2 digital photos taken at 9:00 PM in the evening at the Stoneridge Mall parking lot near The Cheesecake Factory restaurant. - Just Existing Light using the Handheld Twilight Scene Mode on the $200.00 Sony DSC-WX9 Point and Shoot 16 megapixel Digital Camera. I did not use a tripod and the camera automatically selected ISO, Shutter and aperture in addition taking 6 separate photos and aggregating them together for the best HDR photo. These photos are about as sharp and noise free at 800 ISO as you will get from an entry level DSLR. Shooting in near or total darkness is a true test of a digital camera's low light capabilities and the Sony DSC-HX9 passes with flying colors.