Samsung Series 9 Model Number 900X3A-A03 Notebook Review - REVISED 11/17/2011
Paging Mr Darth Vader....Your notebook is ready to go!!!!!!
Greetings! Yours truly just received a Samsung Series 9 13.3 Notebook and I have to say, this notebook is about as close to notebook perfection.....at least for my requirements and what I've seen from the competition so far. This notebook comes with a super speedy 128 GB SSD drive, Windows 7 and a gorgeous ultra bright and sharp matte anti glare LCD screen that is backlit by LEDs and is rated at 400 Nits of Brightness which is brighter than most desktop LCD monitors. It measures about .62" thick and weighs a tad less than 3 pounds with the 6 cell Lithium Ion Battery installed. The entire notebook is constructed and finished with a material used on aircraft called duralumin which is at least two times stronger that aluminum. This notebook does not exhibit any flex when touch typing or just holding the notebook. The hinges are smooth and the display screen is so thin but solidly constructed where it does not bend or exhibit any tendency to flex or change shape. The entire keyboard is back lit by LEDs which is a very nice touch and the finish does attract fingerprints as the black surfaces are like magnets. I suggest that you keep a microfiber cloth packed in the computer bag as this is one of the few shortcomings (read design flaws) of this notebook. It runs cool with zero fan noise and the second generation Sandy Bridge Core i5 Intel processor is plenty fast for most business applications.

Thin is In!!! or.....Cuts Like a Knife!
Samsung named it the Series 9
But they should have named it the Katana (Sword in Japanese)
IMHO & with apologies to Bryan Adams
What about battery life? I ran it down with surfing, WiFi and Bluetooth on and MS-Word and Excel open (4 GB of RAM installed and the LCD brightness set to about 33% or 1/3 of the brightest setting and I got about 5 and 1/4 hours of continuous run-time on the battery before it shut down. For an Intel equipped Core i5 notebook weighing just 2.9 LBs that is a little more than 1/2" thick, the battery performance numbers are very impressive indeed.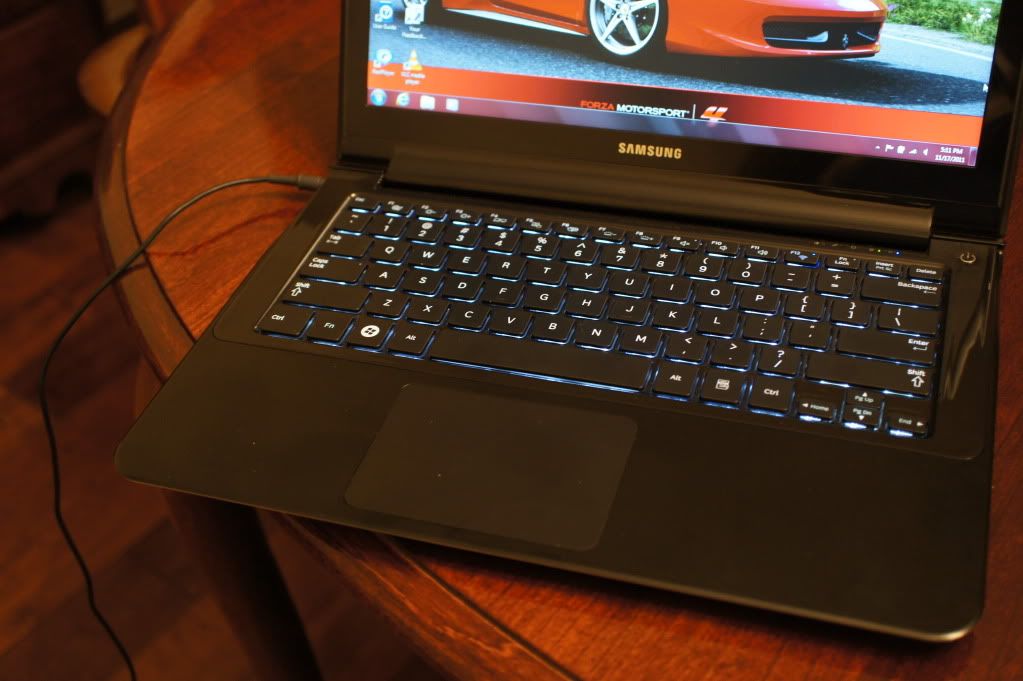 Pay attention 007!!! Samsung also got the back-lit keyboard right.
Q wants his Samsung Series 9 returned from the field
in the same condition as when it originally left...
Got that Bond?
Bond to Q...You must be joking?
Q to Bond... I never joke about my work 007!
I do not foresee any problems carrying this notebook anywhere as it is built to withstand the rigors of day-to-day business travel and usage and is supremely use-able. I am averaging a boot time from power off to the windows desktop in about 18 seconds. It comes to life after sleep mode in a few seconds and sips battery power when in the sleep mode.
The only knock I can see on this notebook is the omission of a USB 3.0 port and having a built in micro SD memory card slot instead of a standard SD-HC-XC memory card slot reader writer. It just means you need to carry a USB SD card reader when you travel if you need to download photos from your digital camera.
I also like the fact that this notebook on average is about two to three hundred dollars cheaper than a comparably configured MacBook Air.

Samsung even figured out how to take the flex out of the chassis and LCD frame.
The entire notebook feels substantial......almost as if it was carved out of a solid block of titanium.
I can attest to the fact that it is a helluva a lot stronger and durable than it looks in the photos.
I really believe this is what Intel had in mind when they came up with the design specification for the Ultrabook. Take the Samsung Series 9 design and see if you can come with a package that can retail for under $1,000.00 with some design and material construction trade-offs.
I call the Samsung Series 9 Notebook the uber Ultrabook much in the same way the original Audi Quattro was affectionately nick-named the uber Quattro.

Audi S1 World Rally Champion Car 1981
Driven By Walter Rohrl
aka Uber Quattro